Exciting News! Join us for the Grand Celebration of Festa San Marino's 85th Anniversary! 🎉
August 10th, 2023
📅 Date: Saturday, September 9, 2023
🕕 Time: Doors open at 6:00pm / Dinner served at 7:30pm
🎶 Live Music by Eclips for a Night of Dancing
Come commemorate 85 years of tradition, culture, and community at Festa San Marino! From 1938 to 2023, we've shared cherished memories and unforgettable moments. Let's gather once again to create new memories that will last a lifetime.
🍽️ Indulge in our exquisite Dinner Menu 🍽️
Tagliatelle with Meat Sauce
Roast Veal with Peppers and Mushrooms
Mixed Green Salad
Asparagus
St. Anne Potatoes
🍷 Enjoy a Premium Bar with Red Wine on the Table 🍷
🍮 Treat yourself at the Expresso & Cappuccino Bar 🍮
And that's not all! The festivities continue with the Afterglow Stations served at 9:30pm, featuring a delectable spread of:
Porchetta, Piada & Prosciutto
Cascioni
Pastries & Fruit Trays
Let's come together for an evening of Feste & Frolic, celebrating our shared heritage and the vibrant spirit of San Marino!
📋 To reserve your spot, please fill out the Reservation Form and send it along with your check to:
San Marino Social Club
1695 E. Big Beaver Road, Troy, MI 48083
🔗 For more details, visit our website: https://sanmarinoclub.com/
Don't miss out on this incredible event! Gather your friends and family for a night to remember. Let's make our 85th Anniversary truly unforgettable. 🎈🎊
For inquiries, reach us at:
📧 Email: info@sanmarinoclub.com
📞 Phone: (248) 689-4615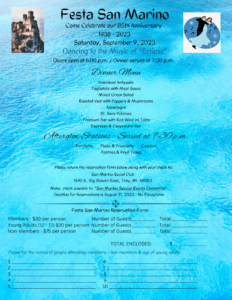 #FestaSanMarino #85thAnniversary #CommunityCelebration #SanMarinoPride